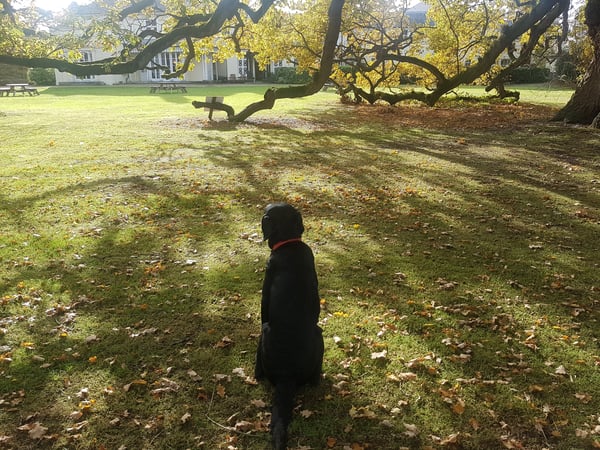 Official job title
Chief Biscuit Officer
But what do you actually do?
Wag, sniff, lick, repeat. As executive in charge of health and wellbeing (regular naps and snacks), I'm a very busy pooch. I take a largely supervisory role in the office - I'll give the occasional woof on conference calls, just to let the team know I'm listening in, and I always encourage charitable donations (of biscuits, to me). I'm indispensable.
So if you could write an alternative job title that really describes what you do…
Top Dog, of course!
Tell us a bit about your background
Currently it's a fuzzy blue carpet. If I move over to the lino, it's smooth and grey.
What have been your career highlights so far?
My grandfather was a champion gun dog and made the cover of Gundog Weekly. I believe I have inherited his ability to sniff out opportunities, although I'm a bit of a wuss when it comes to loud bangs which does somewhat hamper my abilities on the shooting front.
My sniffing skills however are legendary. l once uncovered an old apple core buried at the bottom of the office wastepaper bin. Yum!
Favourite client project and why?
The one who brings the biscuits.
What exciting projects do you have coming up?
I've got a bone I hid in the office quite a while ago. I'm not exactly sure where, but the smell will lead me to the right spot pretty soon. I'm really looking forward to it.
What qualities do you bring to the Marketing Fusion team?
Equality and fairness are high on my agenda. I get along with anyone who is willing to share their food. I also make sure I chew and hide everyone's belongings equally. It's important to keep the team on their toes!
Favourite tools of the trade?
My tail - part emotional barometer, part weapon of mass destruction.
What makes Marketing Fusion stand out from the crowd?
What other marketing agency has a dog at its helm? Marketing Fusion is leading the way in canine workplace opportunities.
Describe Marketing Fusion in a 5-word sentence
Woof Woof Woof (Is that right? What is 5?)
If you could take Marketing Fusion on a team building day, where would you go?
Mud bath! I know this lot love going to spas, so a good old stinky mud wallow would be right up their street. I've buried loads of things in the garden in preparation. The team could really do with developing their digging skills, and I hear mud is great for human skin.
How will you be spending your next day off?
I don't get days off. Being this adorable is a full-time job.
Final question: Tell us something about yourself that will surprise your colleagues
I know how to open the fridge….