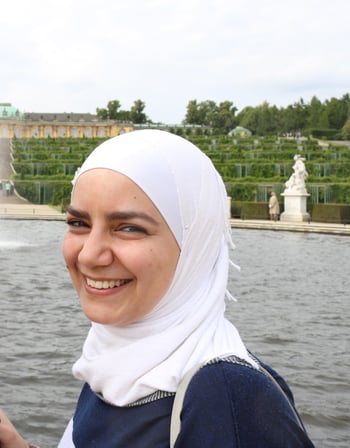 Official job title
Graphic Designer
But what do you actually do?
Graphic design! My job really does what it says on the tin. I design our case studies, layouts, web pages and the graphics for Marketing Fusion's own brand.
So if you could write an alternative job title that really describes what you do…
Still a graphic designer!
Tell us a bit about your background
I have been a graphic designer since 2010. I began my career working in various countries in the Middle East, and I studied Visual Communications and Photography alongside my job. I also spent some time working as an architect which taught me to dive into new experiences and go beyond my comfort zone. Family life brought me to the UK, and now I am enjoying continuing my journey with Marketing Fusion.
What have been your career highlights so far?
I feel that working here is the highlight of my career so far. Having worked in places where there is a frantic pace and a challenging environment, it's a pleasure to work in a calm, professional workplace amongst such positive people. I feel I've been climbing up a steep mountain in my career so far, and I'm finally reaching the summit!
Favourite client project and why?
My current favourite client project has more to do with the way the client operates than the work itself. Tasks are well-organised and clearly explained which makes it easy for me to do my job well. They are very professional and give great, straightforward feedback.
What exciting projects do you have coming up?
I'm working on an exciting brand refresh for Marketing Fusion's own website and assets. We are changing layouts and graphics to create a fresh, modern and professional image for the company.
What qualities do you bring to the Marketing Fusion team?
I bring the visual creativity. The rest of the team are marketing professionals who focus on clients, content and projects - so I try to complement their work by bringing a different aspect of creativity to the table.
Favourite tools of the trade?
I enjoy using Adobe Creative Suite: specifically Illustrator and Photoshop. They are easy to learn, straightforward and user-friendly. I've been using Adobe Suite for 10 years now - it's so easy to organise everything and is a great tool for bringing copy, photos and layout together.
What makes Marketing Fusion stand out from the crowd?
I have only been at Marketing Fusion for a few months, but I can see the team operate with real integrity. They are very client-focused and treat each project as if it's their own. Nothing is too much trouble and they instil real confidence in their clients.
Describe Marketing Fusion in a 5-word sentence
Friendly, calm and supportive team.
If you could take Marketing Fusion on a team building day, where would you go?
Camping! I've never been camping, but I really love the idea of it. I mean proper camping where you get back to nature – with a real fire, tent and a sleeping bag. I want the whole experience - telling stories and making your own food from cans and toasting marshmallows.
How will you be spending your next day off?
My parents are visiting from overseas so we are going to take them on some family outings, showing them the sights and making some great memories.
If you could be a superhero, what would your powers be?
Teleportation. To travel quickly and easily in the blink of an eye. No time wasted, no queuing, no customs, no baggage. Travelling comes with so much hassle - that's something I would love to remove!