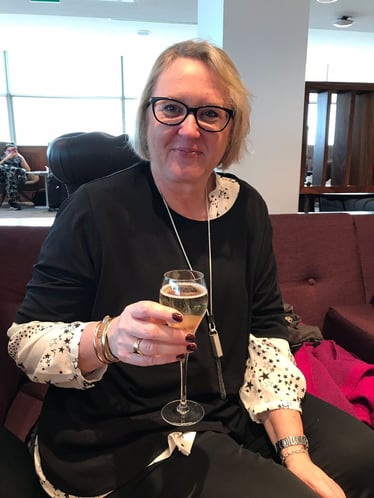 Official Job Title
Account Director
But what do you actually do?
It varies from day to day, in a nutshell I work with clients to ensure they get the most out of their marketing campaigns - sometimes on my own, sometimes as part of the team.
So if you could write an alternative job title that really describes what you do…
Chief marketing troubleshooter and fixer!
Tell us a bit about your background
I have quite a traditional approach to work, which stems from my background at IBM where I worked for 21 years - first as a secretary, then as a marketing assistant working my way up to marketing manager. I spent 3 years studying at night school for my Chartered Institute of Marketing Post-Graduate Diploma and joined Marketing Fusion 3 years ago.
What have been your career highlights so far?
I've been part of some really fun and interesting campaigns - one which springs to mind is the time we had to get 1000 packets of fish and chips out of the door! This was a lumpy mailer campaign where we sent chocolate fish and chips wrapped in newspaper to potential clients, on behalf of an email security firm. The newspaper stories warned about "phishing" and "whaling" dangers. It really got people's attention.
Favourite client project and why?
I really enjoy working with SAP Concur. You can tell they are a team that respect one other. Their company ethos is one of harbouring good attitudes and creative thinking, which reflects how they work with us. They seem a happy, respectful bunch.
What exciting projects do you have coming up?
We have a multitude of campaigns on the horizon for a large company, in which every member of the team will have a part to play. It involves video work, content writing and rebranding – a big campaign with tight deadlines. Personally, I am working on set of assets to support a client – infographics, executive summary and blogs, more video work, live video work at an event and animation too. You need to be multi-skilled in this job!
What qualities do you bring to the Marketing Fusion team?
I like to think I'm a team-player; in a small team it's really important to help everyone to gel. I have a strong work ethic, being loyal and dedicated, but I like to bring some laughs to the office too.
Favourite tools of the trade?
I really like Followerwonk for social media, it allows you to see who is following who on Twitter and helps with social listening. RiteTag is another great tool for looking at trending hashtags.
What makes Marketing Fusion stand out from the crowd?
I think we're an extension of the client's own team, it's almost seamless. We read everything, we respond to everything, we're pro-active with a can-do attitude. Computer never says "no"!
Describe Marketing Fusion in a 5-word sentence
We get amazing stuff done!
If you could take Marketing Fusion on a team building day, where would you go?
If it could be anywhere in the world it would be wine-tasting in the Durbanville valley near Cape Town in South Africa. If the budget won't stretch, then a spa day would be nice.
How will you be spending your next day off?
Unexciting but necessary jobs - checking emails, food shopping and cleaning. Not very glamorous, but we all have to do it!
Describe your relationship with executive pooch Max
He's very fickle - he only loves me when I've got food.