When looking through your Twitter time line, do you think you would know what Tweet comes from which account without seeing the username? It's probably easier than you think. I think I could spot a Ryan Reynolds Tweet from miles away with his dark humour and Phillip Schofield's "cool dad" posts stand out as well. Brands or businesses work in the same way. Have you ever noticed how similar all the BBC News tweets are, or how the ASOS platforms flow from post to post? That's probably because they all have a social media style guide (let's call it a SMSG for short).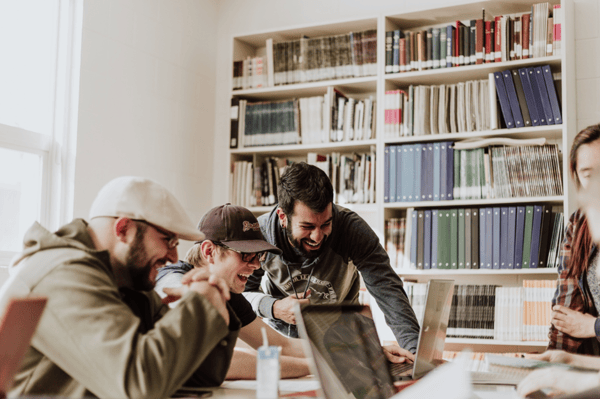 Photo by Priscilla Du Preez on Unsplash
If you're running a few social media accounts, investing some time in creating a SMSG could save you a lot of time in the long run and prevent you from making those cringe-worthy mistakes.
What is a SMSG?
It's the go-to document for your entire organisation to use and refer to when posting on various platforms on behalf of your company. It should detail and advise your employees on how you wish your brand to appear on social media and protect your brand values.
Your style guide shouldn't be confused with your social media strategy – that's something aligned with your content marketing strategy – the SMSG is your tone of voice and how you represent your brand.
Why is an SMSG important?
Without one, your online brand could end up misrepresented, disjointed and little mixed up! And nobody wants that. Imagine you have a team of 7 dwarf marketers led by Snow White the marketing manager, who all share the social media work load. One posts grumpily, one posts shyly and another posts happily. That doesn't look so good for your brand voice – you might look slightlyoffbeat. A social media guide ensures that everything you are posting is along the same lines with the same brand message, consistently. Taking the time to think about this before you get started also gives your company a personality and prevents silly mistakes.
What to include in your SMSG:
Goals:
What is the purpose of your social media platforms and what goals do you want to achieve from them? You should decide whether your platforms are there to help you get more leads, show your audience a less formal side of your business or to promote your business in general. Look to your content marketing strategy for answers. But, cementing your goals and how you'll measure them before you start is essential for success.
Audience:
Similarly, you need to make it known who your audience is. You don't want to talk with a lot of jargon and formal talk when your target audience is teenagers, you won't get much interaction or engagement. Decide who you wish to target before you get started, buyer personas come in handy here.
Check out our Buyer Persona eBook for some more help here!
Platforms
There are quite a lot of social media platforms out there. Be sure to choose the right ones for your business. There is no point in putting your business on Pinterest if it is not relevant to your industry. Ask yourself: which ones do I need to be on? Where do my buyer personas spend their time? You also don't need to be on them all at once. Start with one whilst you get the hang of it and slowly spread out to other channels.
Tone of voice
How do you want to be seen? An educator? An advisor? A comedian? Your tone of voice is arguably the most important part of your SMSG. It can distinguish between each platform, Twitter is obviously far more casual than LinkedIn, but a similar underlaying tone should flow between them.
Some tones of voice to consider:
Friendly
Funny
Colloquial
Educational
Energetic

Modern
Once you have decided on this it will help the rest of the team know the type of voice to include when writing your content.
Grammar
To make sure everybody is writing in the same way, make a couple of quick rules regarding grammar. As a business, there shouldn't be any shortening of words to 'u' or 'ur' or 'r'. You should decipher beforehand whether you want to post in full sentences. Bear in mind this may be harder on Twitter with a shorter character count. But on platforms like LinkedIn, full sentences tend to read better. Think about the appropriate punctuation you wish to use; do you want to use ampersands instead of 'ands' or even exclamation marks – are they loved or forbidden?
Hashtags
Only use hashtags where appropriate. They are not used very often on LinkedIn but are hugely successful on Twitter and Instagram. They enable even more people to be able to find you by searching for a hashtag subject. Double check the hashtags on the platform first, to make sure it is in the right context and relevance that you wish to use it in. Use helpful tools like Hashtagify.me and Ritetag to see the amount and type of engagement each hashtag gets to make sure you're using the relevant hashtags.
You should also consider where you wish to place the hashtag: at the very end of the post or incorporate it within the text?
Images
Images on some platforms are essential, such as Instagram. You don't always need to post them on other channels, but they do increase your chances of your posts being seen. Some things to consider with your images: your logo, themes, quality or the relevance to the post. Let your team know when you want them to use images, or when you don't and make sure they know which images are allowed. And beware using images if you don't have the rights to use them! Always check!
Scheduling
A schedule for your social media posts is a really useful tool – this should ideally tie in to your content calendar. Try and have a set plan for when you want to post to each platform, so you can see where your gaps are or if you have too many posts going out on one platform on a single day. Look at your analytics so you can see where your most successful times are and make that your suggested times in your SMSG.
Your social media style guide should be a continuously working document, always changing, always evolving and always growing. You will learn what does and doesn't work for you. But the purpose of an SMSG is to make sure that the style is consistent across the business.
While this is our guide to creating an SMSG – it is just that, a guide. Base yours on the requirements in your content marketing strategy, adapting, changing and using what you need.
And remember, as your business grows your social style should to.