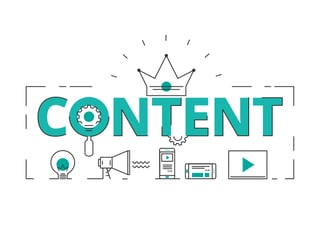 In my last blog post, I talked about the principle behind using a content-led approach for ABM – taking the content that you are already producing that targets a specific pain point and buyer journey phase, then tailoring it even more specifically to an individual organisation. But that might sound like a daunting task, especially when you consider the level of customisation you will need to apply each time. To help, here are eight ideas for making your account-based marketing more effective using a content-led approach.
Personalised direct mail
With the advent of GDPR and the overwhelming volume of emails that land in the inboxes of most senior decision makers, it's not surprising that direct mail has made a comeback. And with advances in digital print capabilities, you can now do some really clever things to make each mailer distinctive and highly relevant – without breaking the bank. The type of mailer you send will depend on the nature of the person you are trying to reach and the available budget, but the opportunity to be creative is almost limitless.
Personalised video
Instead of sending an introductory letter or email, a custom video can set you apart from the crowd in the eyes of today's time-poor executives. Video-within-video is a cost-effective way to achieve a personalised campaign. Create a framework video offering value-based content and featuring a presenter or a story, then use a screen within the video to highlight company-specific messaging. To reach your intended target, send the content as a video mailer. The video plays on opening so impact is immediate.
Personalised high-value content
Premium content such as ebooks, guides, white papers and SlideShares have become the staple of B2B marketers. Geared towards the early to middle stage of the buyer journey, they often explore the prospect's challenge, bringing in research and statistics to re-enforce their message. To personalise this type of asset, consider referencing the specific challenges faced by your target company in the opening section. Refer to their goals and other information that you can glean from public information sources like company accounts. Be specific, if possible, including quotes and statistics from their organisation or related to their market sector.
Personalised interactive web presentations
A range of hosted website tools and themes offer easy ways to create 'click through' style presentations that can be created in a generic form and customised to a specific audience. Creating a custom site for each prospect may seem a big investment, but themes like Qards and Salient can take away much of the heavy lifting, enabling you to create a specific 'journey' for your prospect to scroll through, without the need for heavy programming or design.
Personalised 'explainer kits'
Let's say you're past the first hurdle – you have found an internal champion in your target organisation who's prepared to help you spread the word. How can you equip them to do so? Explainer kits give your internal champions the tools to educate others in their team about the issue they face and the solution you offer. Make them specific to the company – down to using their internal presentation templates and language where possible – to help to increase acceptance.
Personalised "coffee break" webinars
Another way your internal champion can help you to distribute your message further within the business is via a coffee break webinars. These are short sessions (maximum 20 minutes) so don't take too much timeout of the working day. Similarly, 'lunch and learn' sessions allow employees to gain insights into relevant topics. Both formats can widen your network of contacts and help you gain new champions within the business. The combination of company-specific content that is introduced by one of their internal team members will give a big boost to your credibility.
Personalised ROI calculator
Pre-populating your existing ROI calculator with information you already know about your prospect account is highly effective the further you get further down the buyer journey. Use the insights you have gained through research and networking to demonstrate how your offering could benefit that organisation, not just financially but in other ways too. Be realistic and don't overstate, or you will lose credibility and destroy trust.
Personalised offers/assessments
A 1-to-1 assessment can be a powerful offer towards the end of the sales cycle. If you are offering a free or entry-level assessment as a precursor to a sale, you need to make this as tailored as possible. In a large enterprise there may be different teams within the organisation you wish to sell to – so customise the offer as closely as possible to the specific team you want to work with. At this stage, you need to employ all the tools in your armoury to get the deal over the line.
There's no doubt that content for ABM requires an additional level of effort to personalise your marketing materials, but the good news is you don't have to start from scratch each time. By cleverly identifying ways to adapt and customise your existing content assets, you can create real impact within your target organisation and help your brand to stand out from the crowd.
For more guidance on identifying the right type of content for each stage of prospect engagement, download our ebook, "How to use content marketing to navigate the perilous buyer's journey".