There are currently 500 million+ accounts worldwide active on Instagram every day. With its continual growth, now is the perfect time to join the Instagram world and get set up asap. But why? And how will this benefit your business? Social media is such a huge part of our world these days, so it is easy to get lost in amongst the many different platforms and all the accounts. Having just set up our own Instagram Business page, I'm here to tell you how to set up your Instagram Business account and exactly why it is a necessity in your marketing strategy.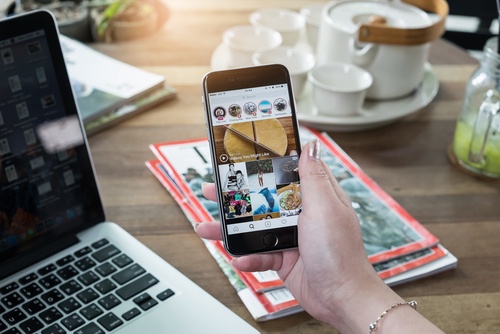 HOW TO GET SET UP
1. Download the App
You can't post a photo to Instagram on the web version, so using the app for all Instagram related business is the easiest way. It's free and should only take a couple of seconds.
2. Sign up
Enter all your business details (email, name, username etc.) and set up an account. You can also connect your business Facebook account here.
3. Switch to business
Once you're in, switch your account to a business account. This way, you can add all the important business info.
And you're all ready to go!
GOALS
Before setting up your profile and posting, you want to think about your goals for the Instagram account. Do you want to use it to:
- Allow audiences to get to know you & your team and see what you get up
- Promote your products and services
- Show educational and advisory content pieces
Deciding this before you begin is crucial to the page's success because you will have a clear outline and a good idea of the type of content you want to post.
Our Instagram goal is to showcase who we are when we're away from our desks. We want to show people our more "human" side whilst still proving value with informational posts.
YOUR PROFILE
Username
Your business profile username should match those of your other platforms to enhance discoverability. If somebody follows you on Twitter and wants to find you on Instagram, it will make things a lot simpler for them. Plus, it looks neater.
Try to make sure the username makes sense as well. If you're a food truck and your Instagram name is about fluffy penguins, nobody is going to be able to find you or understand what your business is.
Bio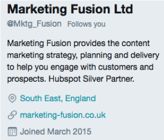 Your bio is key to how you want to be perceived on Instagram. You want to explain your business and what you do, but Instagram is a different game to the likes of LinkedIn - it's a bit more casual. So, try not to sound too business-like and make it more about the more "human" side of your business.
For example, our bio on Twitter is a summary of what we do for our customers and that we're a HubSpot partner agency.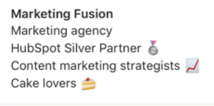 Whereas our Instagram is slightly more colloquial. We still explain the type of business we are and what we do, but it is less structured with emojis to make it more fun and we involve cake. Because who doesn't love cake?
One of the key elements of your Instagram profile is to include a link to your website. This is vital to allow people to continue their journey through to your solid content on your website and potentially further into the conversion process.
When adding your profile photo to your Instagram Business page, you want to think about the discoverability once again. Using your logo here would enabled audiences to find your more easily.
CONTENT
Now we've set up your page, it's time to think about the kind of content you want to post. As I mentioned before, Instagram is slightly more informal than other social media platforms, so you want your content to be centred around you as people, rather than the business side of you. You can still promote your business, you just have to be a bit more tactical and less obvious about it.
Great content ideas include: what you and your employees got up to during a team lunch or trip out, views from your office or even the new employees starting with you. Business content is dependent on what you do as a business. You could post fun, colourful infographics on your top tips or a promotion of an event/expo that you've recently been on. Make it educational/slightly salesy without the in your face, interruptive sales you see on other platforms.
Hashtags are also a great addition to your content. Finding the appropriate ones that give you that view boost can take a bit of time so make sure you're experimenting with different ones. A really great one for networking with other agencies is #AgencyLife. It's full of great ideas for content too as you can see what other agencies are up to. Hashtags make a real difference in your Instagram Business success, don't forget to include them in every post.
Your content should always remain light hearted, fun and interesting. Instagram is all about the images, you want your photos to catch audiences' attention as they're scrolling through.
SCHEDULES
You will also want to think about how often you are posting. You don't want to overcrowd your audiences with content from every platform. We need to make sure that your posts on Instagram coincide with your posts on Twitter, or on Facebook AND on LinkedIn, because too much social media content can be damaging. Instagram can be a little more difficult as it's adhoc content the majority of the time. The solution to this is to build a bank of content. It's ok to use an image of your team lunch a week after you've had it, who will know? It just means you have a backup of content to use when your publishing schedule doesn't look so busy.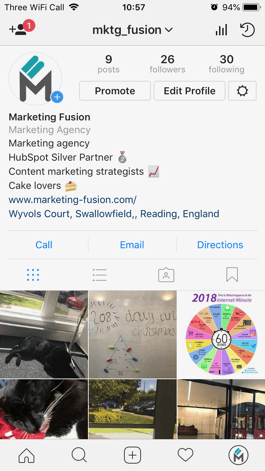 80% of accounts are now following a business on Instagram. And if your business is not on there, you could be missing out on this engagement with a new audience. Instagram is a very easy platform to master – one that could give you great pay off. Just make sure you're aware of the right type of content you should be posting and that you're following other businesses in your industry and you'll be off to a flying start.
Check out our Instagram for some inspiration.