Is your content working well for you?
As part of any content strategy project, we conduct a content audit with our clients. It gives us a better understanding of the brand, the messaging and that company's content marketing maturity. It also helps us identify any marketing 'gaps'.
We often come across some great pieces of content that are deemed to be underperforming. Further digging usually reveals the reasons: the asset may be too long, unattractive, presented in a hard to digest format, and more often than not it's targeted at the wrong buying stage – or worse – not targeted at all!
One example of content that can quickly go stale is research-based material. This is usually a high value collateral – after all, you've invested in the research itself at great expense, so you want to make sure you get a good return in marketing terms. But frequently we see the research findings presented in one large document that is frankly hard work for the reader to wade through. And while it may attract a good number of downloads, it might not be helping your prospects to commit to a purchase. So, what else could you do with it?
Think about the buyer journey
We suggest you review the value of that piece of collateral relation to your buyer journey. If you need some inspiration, we've added our take on what that looks like.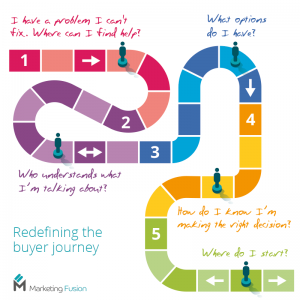 Ask yourself: what stage is the main piece aimed at? And how are you going to get people there? A single document can be turned into multiple pieces of content in a variety of formats that will lead your audience on a journey to answer THEIR questions. HINT: Not all of your prospects want to read a 50-page research report...
Take a look at our visual to find out how many ways you can repurpose a single piece of collateral and create an entire suite of materials. Think multi-touch, multi-channel marketing, and suddenly you are getting a lot more value from that 50-page document.
While we've suggested a number of different avenues for the research results, we've also suggested which stage of our buyer journey they could be aimed at – all with the ultimate goal of driving your prospects through the stages. Exactly what type of content you create, and how many pieces you produce, is up to you.
So, next time you're looking at your content strategy and planning a campaign, try mapping your content to each of these stages. Make sure you repurpose and recycle existing pieces that are still relevant – they will most likely be full of valuable gems that will help you stand out in the market when presented in a different way.