Here at Marketing Fusion we're huge advocates of content marketing as a strategic approach to both brand development and lead generation. We've worked with many clients who are now reaping the benefits of this approach.
One such business is Innometrics, a Swedish-based tech provider with an innovative offering around customer profiling. The company's proposition is aimed at large, consumer-facing organisations that want to embrace the need for better customer engagement across all marketing channels. Innometrics wanted to target the UK market as a springboard to the rest of Europe, with an eye on the bigger US opportunity.
The challenge was to establish a new brand and build sales momentum in a noisy, crowded market with limited bandwidth, budget and resources – a familiar story for many early-footprint tech providers.
With guidance and support from Marketing Fusion, the Innometrics team identified content marketing as a key element of their sales and marketing strategy. We think they've done a great job and we wanted to share some of the things they've delivered as part of their content marketing strategy.
The marketing funnel
To help prospe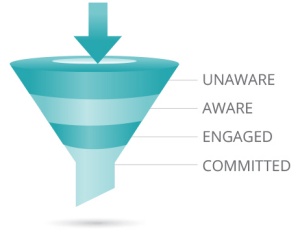 cts progress through the marketing funnel, Innometrics has cleverly developed content that delivers appropriate messaging at each point of engagement with the brand. The team chose to underpin their campaigns with the Pardot marketing automation platform, integrated with Salesforce, so sales and marketing have one set of data to work with. Here's an insight into what they've produced.
Unaware prospects
Strategy: Initially engage the audience with attention-grabbing messaging, light on detail but with a hook that encourages engagement. Messaging is focused on the prospect's needs rather than the solution.
Content type: Innometrics uses a mixture of owned, paid and social media channels to communicate its message, along with targeted emails to get its message out to subscribers. Content types include blogs, Slideshare presentations and infographics, all designed for easy consumption.
Aim: Grab attention, encourage social sharing, generate brand awareness.
Examples
From a more or less standing start, Innometrics has created a successful blog programme which is now distributed to several hundred subscribers.
Why does it work?
Posts are usually short and easy to digest. What's more, the whole team is encouraged to contribute, offering a variety of viewpoints including those of the engineers who work most closely with the customers.
Aware prospects
Strategy: Provide value-added insight to the prospect that confirms a need for your products and services, while also offering them something useful they can reference in their daily job.
Content type: Once the prospect has clicked through, Innometrics offers a range content, some of which is freely available (articles and website content) and some that requires registration (eBooks and guides).
Aim: Grow the prospect database, demonstrate credibility in the market and offer high value content to build loyalty.
Examples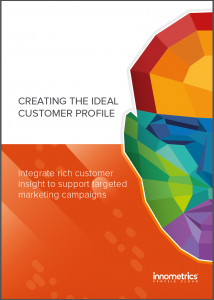 Check out the latest guide from Innometrics, 'Creating the ideal customer profile'. As part of the campaign, Innometrics offers a certain amount of information for free (without registration) on the landing page, and encourages the visitor to download the full guide to find out more. So far the promotions have delivered an impressive 20% conversion rate for this asset.
Why does it work?
By offering some introductory content for free, Innometrics builds credibility with the user early in the engagement. It's also very clear what the visitor will receive upon registering. It's vital not to mislead your prospects at this stage simply to gather their contact details – if the content behind the registration does not live up to expectations, that visitor is unlikely to trust your brand in the future and will not engage further.[/fusion_text][/two_third][fusion_text]
Engaged prospects
Strategy: Having convinced the prospect that they have a credible need for your products or services, you can now start to demonstrate why your offering is the best one in the market.
Content type: Now you can make your story more relevant for the audience. Innometrics runs webinars that target engaged prospects and has developed a range of product information sheets and solution briefs to support this stage of the funnel.
Aim: Provide details about your product or service and demonstrate how you've helped other clients to achieve their goals.
Examples
The Innometrics team regularly delivers webinars to tell a more detailed story and demonstra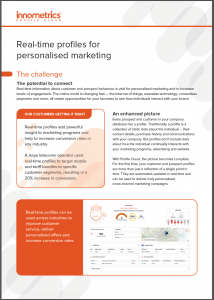 te their expertise. They have also developed a range of capability sheets that tie in their product's key features with end-user benefits.
Why does it work?
Webinars in particular are valuable on-demand assets long after the live event and help to make a more personal connection with the audience. Similarly, solution collateral is useful in helping the prospect to join up the story between your technology and their business.
Committed prospects
Strategy: At this stage of the journey, it's likely your sales team is engaged one-to-one with the prospect. Now you can make the communication even more relevant.
Content type: It's useful to have a range of materials you can draw upon so you can tailor your conversation, including case studies, customer references and supporting collateral.
Aim: Overcome prospect objections, showcase your abilities, and provide evidence of your expertise and success.
What's next?
Innometrics recognises that one type of marketing content can't satisfy prospects at every stage of the engagement journey. The team continues to develop the asset library, with a strong focus on value-add content pieces for the 'aware' audience. These assets not only help to deepen brand credibility with their existing prospect database, they also act as strong hooks to draw more unaware prospects into the top of the funnel.
The client's view
Martin Wallace, Marketing Manager at Innometrics said, "With guidance and support from Marketing Fusion, we identified in the early days that content marketing would be a key element of our sales and marketing strategy. We're gratified that that decision paid off, and has helped us to create a strong presence in our key focus area – real-time customer profiles. As time goes on, we're getting better and better engagement from customers and prospects. "
Want to find out more?
If you need any help assessing your content marketing requirements and creating compelling assets, we'd be happy to help. Contact us now to start the discussion.